Frequently Asked Questions
SHIPPING

NZ SHIPPING:

Due to our items being handmade and personalised to order we have a turnaround time of up to 1 week before your item is shipped.

We aim to have your orders shipped within 7 days of purchase. Your order will be shipped with Post Haste NZ, tracking details will be automatically emailed to you once your order has been picked up from us.

Shipping within NZ usually takes between 1-3 days but from time to time shipping can be delayed due to courier time frames.

Once it has left our warehouse we can't be responsible for delivery times. We will however try our best to communicate these to you if we can at the time. 

INTERNATIONAL SHIPPING:

We ship worldwide! We ship our international orders with NZ POST. 

Timeframes vary from country to country, but can be up to 10-30 days. tracking details will be sent via email once dispatched.

Please be aware there may be courier delays outside of out control due to Covid-19, Black Friday and Christmas time.

Please ensure you type the correct address, if a package gets sent back to us due to incorrect address additional postage fees will apply.

From time to time shipping can be delayed due to courier time frames. Once it has left our warehouse we can't be responsible for delivery times. We will however try our best to communicate these to you if we can at the time. 

FREE SHIPPING: NZ & AUS for orders over $89 NZD free shipping is automatically applied at checkout.

INTERNATIONAL for orders over $100 NZD free shipping is automatically applied at checkout.

 

RETURN & EXCHANGE POLICY 

If you have received a product from us and you are unhappy with it we will do our best to find a solution given you have contacted us within three days of receiving the item. As most of our products are made to order we do not refund for change of mind, so please ensure you have your order correct before finalising your purchase.

Please do send us an email if you are still unhappy and we will try our best to ensure you are 100% satisfied. Kikiandco.nz@gmail.com 
WHOLESALE

Welcome to Kiki & Co. Wholesale!

At Kiki & Co, we take pride in providing high-quality handmade accessories to over 45 stores globally.

Our products have gained popularity among retail stores due to their cute designs and functionality! We also offer the unique opportunity to have custom key chains made exclusively for your business. 

Our key chains are incredibly versatile and can be used for various purposes. They make fantastic additions to gift boxes, goodie bags, and promotional giveaways. Whether you're running a holiday home company, a gym, a real estate agency, or a car dealership, our key chains are the perfect choice to elevate your branding efforts and leave a lasting impact on your customers.


Customised Products: 
We understand the importance of branding and promoting your business. That's why we offer personalised key chains that can be branded with your company logo. Having your logo on our key chains is an excellent way to create brand awareness and make a lasting impression on your customers.

 

In-stock Items:

In addition to our custom accessories, we also offer a wide selection of in-stock products available for wholesale. Everything currently in stock on our website can be purchased wholesale, Including our keychains (plain or personalised) scrunchies, lanyards, zipper pouches, bookmarks, earrings, book sleeves, hair claws & more.


How to Place a Wholesale Inquiry:
To inquire about our wholesale options or discuss personalised key chain designs, simply fill out the form below or email Leila directly at kikiandco.nz@gmail.com. We will get in touch promptly with more information including our wholesale rates.

Order online: We currently have two set options for ordering our plain keychains at wholesale rates online. Please see the Wholesale Pack listings below for more information. 


At Kiki & Co, we believe in fostering long-term partnerships with our clients, and we look forward to the opportunity to work with your business to create outstanding customised key chains that will elevate your brand presence and delight your customers. Get in touch with us today and take the first step towards making your business stand out!
PERSONALISATION

Keychains, Lanyards and bookmarks are available to be personalised.

Please see product discription for instructions.

For your inspiration, here are some frequently ordered phrases.

Your name
Your nickname, phone number or 'sarahs keys'
You've got this.
But first, coffee.
But first, wine.
mama
nana
you go girl.
#girlboss
teach, love, inspire
Hey, beautiful.
Hey bestie.
BFF or Best Friends Forever
Drive safe
late but cute
Good vibes
Where are my f** keys?
make it happen
Girl power
Be you
Be kind
goddess
you do you
you are so loved
probably getting coffee
chasing that dream
manifest it
fucking fabulous
you got this.
you are enough
small business owner
small biz babe
actually i can
but first, kindness.
plant lady
cat lady
dom mum
boss babe
boss mama
dream big
dream it, do it.
i can & i will
breathe
wild heart
best mum ever
best dad ever
love you bestie

Hearts and other small symbols can be added to your words, just leave instructions in brackets in the personalisation box when ordering.

Please be careful with spelling and write it exactly as you want it printed on your keychain including capital letters ect.

We use copy and paste and do not check spelling or grammer as often miss spelling is a personal or 'in' joke.
ABOUT US

Hello!

At Kiki & Co we are all about making accessories that are practical but also really cute!

Each item is handmade just for you with care and attention to detail. We think they make the perfect thoughtful gift!

Kiki & Co is a small handmade business, We make everything from our home studio in Nelson NZ.

The business was born in lockdown 2020 after our previous food cart business was halted due to covid 19. 2 years later and we couldn't think of doing anything else!

As the business continues to grows we aim to keep bringing out new designs and products that we know you are going to love!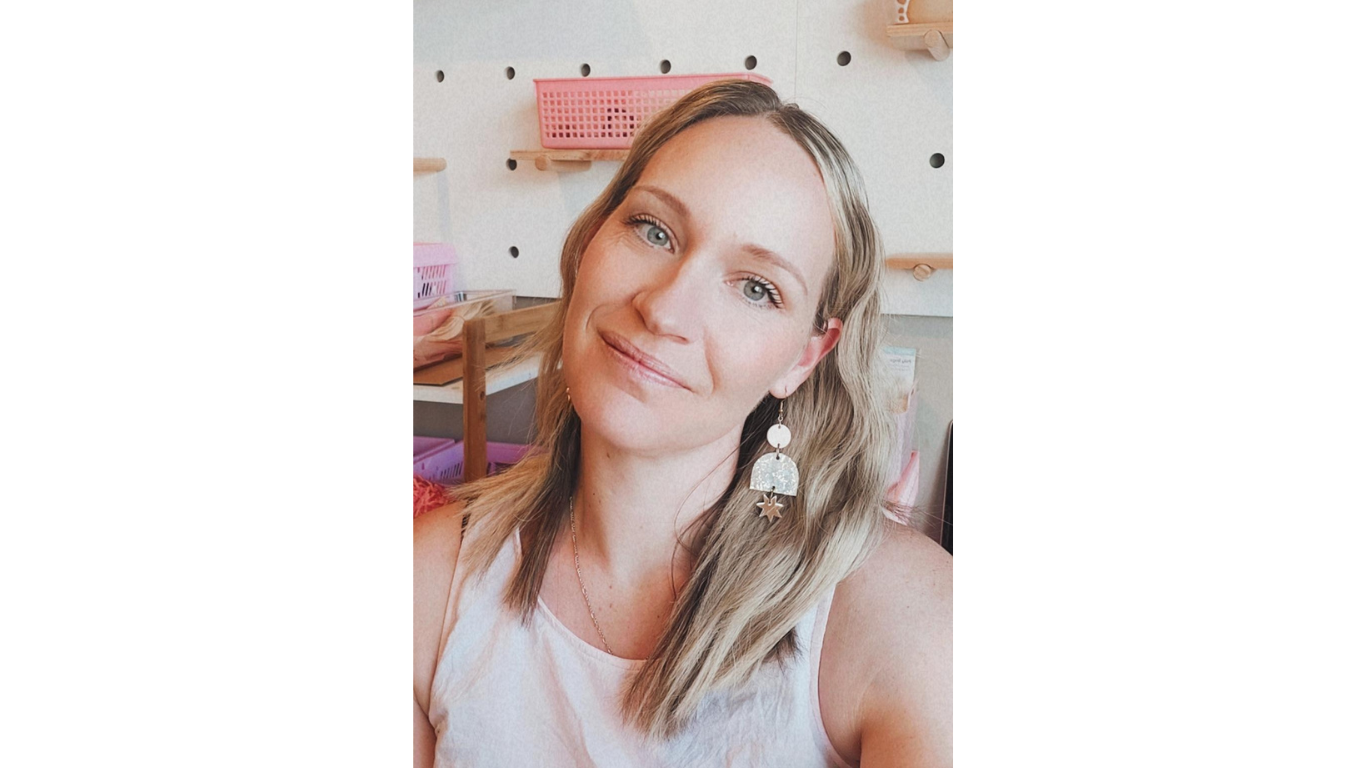 Need more help?
Hello! I'm Leila, owner of Kiki & Co.
I love to connect with my customers so If you need any help with your order or any other enquires please don't hesitate to get in touch.
Contact Me